Cheney Longville Castle Ordnance Survey Map Reference SO 417848
The manor of Longville was at one time held by the Burnells, but the Cheneys were in possession from the early 14th century onwards.  Within the fork of the roads at the top of the village are traces of what may be an 11th or 12th century earthwork castle.  In 1395 Richard II licensed Roger Cheney to crenellate the existing castle.  It passed to the Plowdens by the 17th century, and to the Beddoes in the 18th century.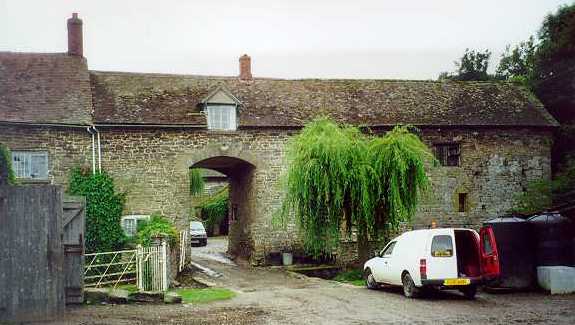 Above : Cheney Longville Castle gateway on the north-west side (August 2000)
The pair of cannon balls at the castle may be relics of the Civil War, but no assaults on it appear to have been recorded.  The north corner is now occupied by a farmhouse which appears to be a 19th century remodelling of a late 17th century or early 18th century structure built up from the still surviving base of the medieval outer wall.  The remainder of the castle serves as a farmyard with agricultural implements and livestock occupying the slowly decaying buildings.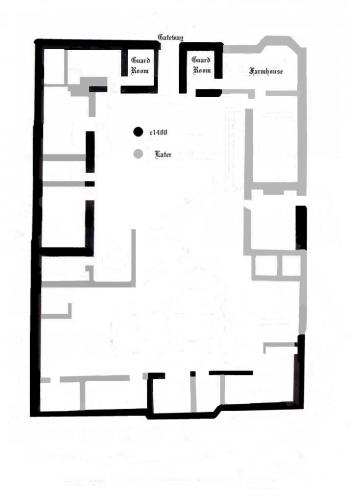 Ground Floor Plan
The castle consists of four comparatively narrow two storey ranges set around a courtyard about 105ft (32m) long by 58ft (17.5m) wide.  Even with the moat drained, and the upper parts of the walls rebuilt without their original crenellations, Cheney Longville is better preserved than the other 14th century defensible mansions in Shropshire, and gives some idea of their original appearance.  However, with walls only 3ft (1m) thick, without any flanking towers, the castle was never of any significant military strength.
The three original surviving ranges contain a number of original windows, but much has been altered.  None of the ranges seem wide enough to contain the great hall.  It must have been in a range on the north-east side which was wider than the farmhouse now occupying the northern half of this side.  The north-west range contains the gateway, flanked by guardrooms.  The passage now has a flat ceiling without any defensive features.  The altered, decayed rooms are reached partly from within the farmhouse and partly by an external stairway in the west corner.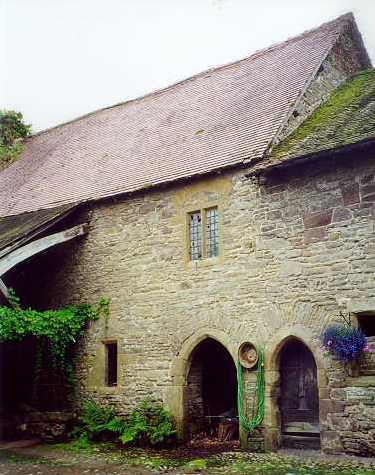 Above : Doorways at "D" on the plan shown above (August 2000)
The only notable features are a doorway with a 14th century type shouldered lintel and the roof trusses and queen-posts.  Only the western two-thirds of the south-west range survives, with numerous original windows.  However, the crosswalls are not old, except for the one near the southern end with two blocked 14th century doorways.  The thin inner wall of the south-east range is much rebuilt but contains some original doorways.  The centre part of the range projects very slightly and has two lancet windows at a level intermediate between the levels of the other windows of the two storeys.  Further south in the outer wall is a blocked plain mullioned window of the 17th century.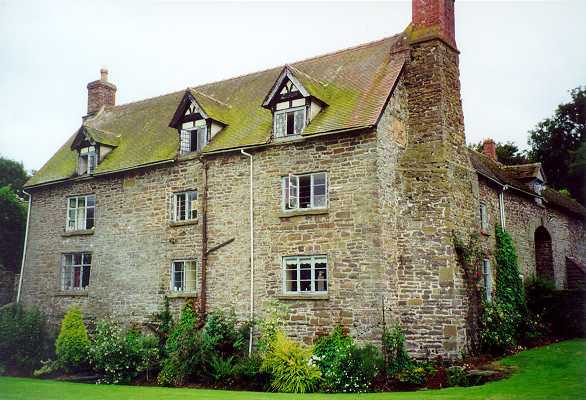 Above : Later additions on the northern corner (August 2000)
The castle is a private farmstead and not open to the general public.  For a sketch drawing of the gateway see the weblink
http://www.ewgreen.org.uk/cheney.htm
Bibliography
Salter, Mike : The Castles & Moated Mansions of Shropshire : Folly Publications, November 1988; Reprinted June 1990 & March 1992